This game is a port of Hero of Sparta for the Nintendo DS and the Nintendo 3DS, released for DSiware and in 2010 and in the E-Shop channel in 2011. This version of the game is much shorter than the previous games only having 5 levels instead of 8 like in the other versions.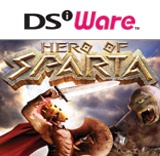 The D-pad (or circle pad if you are using a nintendo 3ds) to move
A or X buttons to attack
B button to jump or do a focused kill when prompted
Y button to do an ascension
R button to block (R+analog stick to roll in that direction)
L to change your weapon (or tap the desired weapon on the touch screen)
Ad blocker interference detected!
Wikia is a free-to-use site that makes money from advertising. We have a modified experience for viewers using ad blockers

Wikia is not accessible if you've made further modifications. Remove the custom ad blocker rule(s) and the page will load as expected.